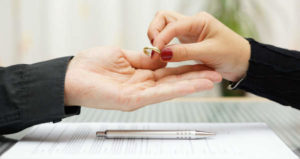 Anytime you make a major change in your life, it can impact your finances. Whether you decide to get married or to have children, you will be making financial changes and updating your insurance policies.
Divorce, perhaps more than any other event in your life, can have a drastic impact on your bank account and your financial well-being. Although it may be difficult to think about handling finances when you are dealing with such emotional strife, it is extremely important to think about insurance changes and other significant financial matters following a divorce. Quickly handling insurance changes after divorce can help to prevent serious financial consequences in the long run.
According to a recent article in Forbes, anyone who is thinking about filing for divorce or has recently gotten divorced should understand how it affects your insurance. The following are five areas of insurance coverage that should get your immediate attention. If you are considering divorce or have questions, an experienced divorce attorney in Raleigh can help.
1. Life Insurance: Buying It and Renaming Your Beneficiary
While you were married, it is possible that you did not have a life insurance policy. Or, if you did have a life insurance policy, it is likely that your spouse was named as your beneficiary. Life insurance is one of the major types of insurance that will require your attention after divorce.In some cases, your divorce agreement will require you to provide alimony and/or child support payments. A life insurance policy is often one way in which the court helps to ensure that you can continue providing support even in the event of death. As such, if you did not previously have life insurance, you may need to purchase a policy and name your ex-spouse as your beneficiary.
As the article explains, you will be able to choose the term of your life insurance policy. Typically, life insurance policies come in the following terms:
5 years
10 years
20 years
30 years
Depending upon how long your support obligations last, you will need to select an appropriate life insurance term.
If you already have life insurance and have support obligations, you may still be required to keep your ex-spouse as a beneficiary. However, if you do not have any support obligations as part of your divorce settlement — in other words, if you are not responsible for spousal support or child support payments — then you may need to remove your ex-spouse from your existing life insurance policy.
2. Purchase Disability Insurance
Did you know that about 25 percent of today's 20-year-olds will become disabled before they reach the age of 67? That figure comes from the Forbes article, which makes clear that the likelihood of suffering a disabling injury is much higher than dying before the age of 67. As such, disability insurance might actually be more important than life insurance if you have support obligations after divorce.Many divorce agreements require a supporting spouse to purchase a disability insurance policy to cover monthly alimony or child support payments in the event of a disabling injury.
3. Choose a New Health Insurance Plan
If you were listed as a dependent on your former spouse's health insurance plan during your marriage, you will need to make different arrangements as quickly as possible. Indeed, insurance companies do not allow ex-spouses to retain health insurance benefits once a divorce is finalized. As such, you will need to take one of the following steps:
Contact a health insurance company directly or use the North Carolina health insurance marketplace to locate and purchase coverage.
If you are employed, you may be able to obtain health insurance coverage from your current employer. Even if your divorce is finalized outside the period for open enrollment, the law allows you to sign up as long as you were previously covered (by your spouse's policy) and lost that coverage.
Retain health insurance through your ex-spouse's policy by paying for it yourself. This type of insurance is called COBRA insurance, which is an acronym for policies made available under the federal Consolidated Omnibus Budget Reconciliation Act. Through COBRA coverage, recently divorced spouses can usually retain health insurance coverage for up to 36 months.
Policies vary in terms of coverage and deductibles, and you can choose the policy that best fits your health and financial needs.
4. Make Changes to Your Auto Insurance
In all likelihood, your divorce resulted in splitting up your family's automobiles. Prior to the divorce, you may have been listed as a driver on your spouse's car, and vice versa. Now that you are divorced, you can remove your ex-spouse from your policy. It may be in your best interest to shop for a new auto insurance policy. Keep in mind that many auto insurers give discounts for having multiple vehicles and for being married. As such, a new policy might cost more money.It is also important to be clear about who will pay for your teen drivers' car insurance and which policy will list those drivers. In some cases, both spouses may need to have their teen drivers listed on their car insurance policies.
5. Update Your Homeowners' Insurance
If your spouse moves out of the family home but you retain the house in the divorce settlement, you should contact your insurance company to update the policy so that it is in your name alone. If you both moved out of the family home and you are currently living in an apartment, you should consider renters' insurance.Failing to remove an ex-spouse from a homeowners' insurance policy can cause problems in the future, particularly if you need to file a claim.
Contact a Divorce Lawyer in Raleigh, NC
Changing insurance after divorce can be a stressful process, but it is essential to your financial well-being. If you have questions, a dedicated Raleigh divorce attorney can assist you. Contact Charles R. Ullman & Associates today for more information.