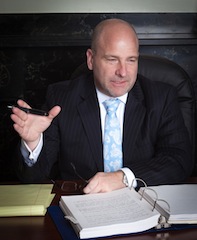 Raleigh Attorney Charles Ullman, recognized for his expertise in family law, was a featured speaker at a National Business Institute continuing legal education seminar where he spoke about the issues of child custody in North Carolina.
North Carolina Child Custody Issues Explained by a Board-Certified Family Law Attorney
Ullman, a board-certified specialist in family law by the North Carolina State Bar, spoke at the National Business Institute's CLE seminar on May 15th in a special video webcast presentation entitled, Child Custody Procedures: Form By Form. Serving as a faculty member for the NBI continuing legal education program, Ullman shared his extensive knowledge of child custody matters with other lawyers in North Carolina and across the United States. His agenda covered:
Administrative issues – including client intake, case information forms, fee agreements and client information sheets;
Pleadings – including summons and complaint, answer and counterclaim/response, reply and motion for temporary relief;
Temporary and preliminary orders – including model orders, court clinic participation forms for PCs and ACs, and motions and orders appointing guardian at litem, Rule 11-706 experts and drug testing;
Working with state child support enforcement agencies – including requirements and procedures in public vs. non-public assistance cases, judicial and administrative services offered by Child Support Enforcement and tips on how to work effectively with the CSED.
The last issue, tips on how to work effectively with Child Support Enforcement, comes from Ullman's years of experience working with CSED and his board certification. Board certification is a designation given only to North Carolina attorneys who have extensive experience in their area of practice, who have been favorably evaluated by other lawyers and judges and who have passed a written examination in the specialty practice area.
"Child custody is both complex and emotionally-charged," Ullman said. "Much of the knowledge I shared in the CLE seminar comes from years of hands-on experience representing families involved with child custody and working with child custody procedures."
Ullman provided attendees with valuable tips on how to work effectively with Child Support Enforcement in the following areas:
How to determine case assignment and CSED
How to contact a CSED attorney
Arrears management program for state money only
Satisfaction of private arrears
Prisoner Outreach Program
Affidavit of direct payments
Policy on Certificate of Compliance for driver's license
Automated enforcement
Caseworker work and attorney work
Drafting workable orders for entry into CSED automated enforcement
Contact Charles R. Ullman & Associates
For answers to your questions about child custody and child support information, contact the Wake County family law attorneys of Charles R. Ullman & Associates. The Raleigh law firm's practice focuses on separation and divorce, child custody, child support, visitation, alimony, post-separation support, equitable distribution, alienation of affection, criminal conversation and other family law issues.