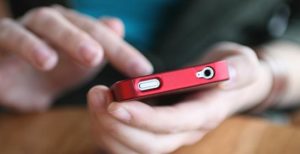 If you are thinking about filing for divorce in North Carolina or if you are in the middle of divorce proceedings, it is important to think carefully about what you post on social media sites. When matters of family law are at stake, you need to be cautious on sites such as Facebook, Instagram, Twitter, and Snapchat to protect yourself.
For example, if you post a photo on Facebook that suggests you have assets that you did not disclose as part of your divorce proceedings, this can come up at a later point during property division. Similarly, if you are in the middle of a child custody case and have concerns about how you will be perceived as a parent by the court, it is important to consider the kind of image you are presenting of yourself on social media.
In short, using social media can impact your family law case in ways that you might not anticipate. When you are working with an experienced North Carolina family law attorney, it is important to let your lawyer know about social media accounts you regularly use.
Can What You Say, Do, or Show on Social Media Hurt You in Matters of Family Law?
There are numerous ways that images and language posted on social media sites can hurt you in family law matters. What kinds of posts can hurt your case?

Photographs you post of yourself with expensive items, such as jewelry or a new car

Photographs you post of yourself on luxurious vacations

Images you post of yourself with a new partner

Images you post of yourself using alcohol or drugs

Language suggesting any of the above
In general, you do not want the image you put forward of yourself on social media to suggest, in any way, that you are not being straightforward about marital assets or that your fitness for child custody may be in question.
Can Social Media Posts Be Grounds for Divorce?
North Carolina is a no-fault divorce state. As such, posting images of yourself in compromising positions on Instagram, or asserting certain points of view on Twitter, for instance, cannot be grounds for divorce, but they may impact your divorce in numerous ways.
For example, if you share photos that suggest evidence of an extramarital affair, these may come into play in your divorce proceedings, especially in child custody matters. Indeed, information contained on social media sites can be used as evidence during various parts of the divorce process, including property division.
In some cases, adultery can also be a legitimate reason to initiate a claim against someone who led to the dissolution of your marriage (the third party with whom one person cheated). Images on a social media site may serve as evidence of adultery. Adultery can also impact child support, property division, and alimony awards.
Can Social Media Posts Lead to a Restraining Order or Violate a Current Restraining Order?
In North Carolina, a person can seek a domestic violence protective order (DVPO) against anyone with whom there has been a "personal relationship," including:
Spouse
Ex-spouse
Former partner with whom you lived (of the same or opposite sex)
A family member, like a sibling, a child, or a grandparent
Person with whom you have a child
Current member of your household
Former member of your household
Can evidence from a social media account be sufficient to convince a judge that a DVPO is appropriate? The judge will take into account a number of factors, and images or language contained on social media sites may be used as evidence.
In addition, the law has a clause that allows a person seeking a protective order to make certain requests aimed at protection. You may be able to request that your spouse or former spouse refrain from mentioning you on any social media sites. Ultimately, it is up to the judge's discretion whether to grant such a request.
Can Social Media Posts Impact Child Custody Agreements?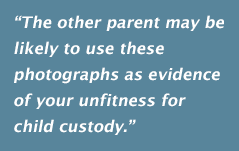 Social media posts can impact child custody proceedings and agreements. For instance, if you are posting photographs of yourself that depict you engaging in certain unethical behaviors, the other parent may be likely to use these photographs as evidence of your unfitness for child custody. These photos can suggest that you make certain lifestyle choices that may not be in the best interest of the child, which is the standard used in North Carolina for determining custody arrangements.
Likewise, posting language on social media sites can also allow the other side to draw inferences about lifestyle choices that, like photographs, can suggest unfitness for custody.
Should You Wipe Your Facebook Account?
You should not delete material that you have already posted on social media. Making decisions to delete specific images or comments, or to permanently delete an account, can have harmful consequences.
You may want to consider avoiding any new posts to your social media accounts. Rather than deactivating your accounts, simply stay away from social media, if possible.
Seek Advice from an Experienced Family Law Attorney in North Carolina
Why do you need to be so careful about what you post on social media? Nearly everything that you make publicly available may be used as evidence in your divorce. Even altering your privacy settings does not guarantee that your photographs and posts will not be used against you in a divorce or custody matter.
If you have questions or concerns about social media and family law, an experienced family law attorney in North Carolina can help. Contact Charles R. Ullman & Associates today.