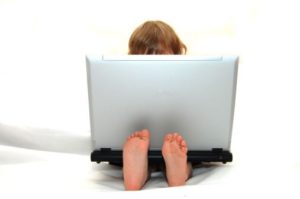 Adoption has changed drastically in the past 20 years. Not only are more domestic adoptions now handled in an open manner, but the Internet has come to play a role in almost every step of the adoption process.
Positive Changes from the Web
The Internet has had a powerful effect on adoption in the U.S.
Information. Information is easily accessible online for adoptive and birth parents.  People are more educated and aware and come into the process with greater knowledge than ever before.
Greater reach. The Web has made it possible for adoptive parents to find and evaluate agencies, facilitators, and birth mothers more easily. Within seconds, adoption possibilities are at your fingertips. Babies across the entire country could be yours. More choices and opportunities are available.
Profiles. Adoptive parents can create websites, blogs, and online portfolios about themselves, making their lives and information more accessible to birth mothers and making it easier to find a good match.
Speed. It is now easier and faster than ever to apply to adopt, with the Internet speeding up the process. Applications and forms are online. The Internet also makes it faster to contact social workers, birth parents, and attorneys.
Staying in touch. Open adoptions are much more common and easier to achieve now, with adoptive parents able to send emails and photos or post blogs that birth parents can receive and follow. A family law attorney can assist and provide guidance about the forms that both sides in adoption must sign if they mutually agree to exchange identifying contact information.
The Internet, however, has added a layer of difficulty to the process.
Fraud. It's become increasingly easy for people to use the Internet for dishonest purposes. People who aren't pregnant can try to get money from desperate adoptive parents. Professionals with no credentials or certifications can offer services. Because of this, it is important to work with an experienced adoption attorney who can help you evaluate everyone you are working with or talking to and provide the protection you need throughout the process.
Lack of training. Most professionals in the adoption field receive little or no training about how to use the Internet during adoption and how to help birth and adoptive parents handle the challenges it presents.
Privacy concerns. While it's great for adoptive parents to post information for birth mothers to view during an open adoption, the Internet also may allow birth parents to get information you might not want them to have. Privacy after your adoption is an important concern, for both you and your child. Whether you're considering an open adoption, a semi-open adoption or a closed adoption, it's important to discuss privacy issues with a family law attorney so that you can make carefully considered decisions for your family's future.