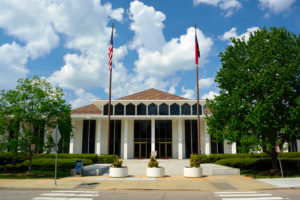 More sexual assault suspects in North Carolina will likely be prosecuted after a new law goes into effect to close several legal loopholes in existing N.C. sexual assault laws. The legislation, which received unanimous bipartisan support, revises statutes related to child abuse and extends the rights of child abuse victims to file civil lawsuits against their attackers.
Gov. Roy Cooper signed the legislation on Nov. 7 making several changes to state law.
"Finally, in North Carolina, no means no," Cooper told a crowd gathered for the bill signing at Family Service of the Piedmont, a nonprofit organization where domestic violence survivors and abused children can get help.
Provisions of the new law SB-199 took effect Dec. 1 2019, including:
Making it a criminal offense to have sex with a person who has revoked their consent during sex. North Carolina was the only state in the country where continued sex after one partner said "Stop" or "No" or revoked consent was not considered a crime. The loophole was based on a 1979 decision by the North Carolina State Supreme Court, which said a person who gives consent to one sex act could only object to subsequent acts.
Making it a crime to have sex with a person who is incapacitated through his or her own use of alcohol or drugs. Because of the way the old law was written, sexual assault victims who voluntarily consumed alcohol lacked legal protection. The legal loophole was confirmed by a 2008 Court of Appeals case, State v. Haddock. In it, the Court cited a phrase in North Carolina's rape and sex offenses law, C. GS. §14-27.1(2), which defines incapacitation as "due to any act committed upon the victim."
Making it a felony to tamper with someone's drink even if no further crime against the person occurs afterward. This change of law addresses drugging the drinks of intended sexual assault victims. The measure expands existing law that makes it illegal to drug someone's food so that the prohibition also applies to beverages.
Extending the statute of limitations for civil suits against perpetrators of child abuse to allow an alleged victim to file a claim up to age 28. The prior limit was age 21. Several states have increased their statutes of limitations in this regard. The new law in North Carolina includes a two-year lookback period after a perpetrator is convicted of a felony sex offense against a child, during which a victim of any age may sue his or her assailant.
"For decades, members of law enforcement, prosecutors and advocates have had to break the bad news to victims that their assailant will not be charged with a crime because of the circumstances of their assault," The News & Observer of Raleigh said in its report about the new law.
The law also:
Requires adults to report violent or sexual crimes against children under age 18 to law enforcement.
Bans online contact with juveniles by high-risk sex offenders.
Allows victims to appear and be heard by the court regarding a request for termination of the sex offender registration requirement.
Requires sex trafficking training for school employees.
After months of discussion in the General Assembly, the final legislation combined four separate sexual assault bills, Jay Chaudhuri, a Democratic state senator from Wake County and a primary sponsor of the measure, told The New York Times.
The ability for members of the N.C. Senate and House to put aside politics ended up being a victory for all victims of sexual assault, he said.
The North Carolina Coalition Against Sexual Assault, an advocacy organization for the rights of sexual assault survivors, worked with elected officials on the legislation.
Protecting Sexual Assault / Domestic Violence Victims in Raleigh
If you are the victim of sexual assault or domestic violence, we know how terrifying it can be to report the crime. But help is available. Legal action may be necessary to protect yourself and your loved ones from additional harm.
A qualified North Carolina domestic violence attorney from Charles R. Ullman & Associates can help you secure an emergency protective order and connect with community resources, such as help from a rape crisis center, refuge at a local women's shelter and assistance from mental health professionals. Family law attorney Charles R. Ullman has been active in raising awareness of the prevalence of domestic and sexual violence, including date rape. A compassionate attorney, Ullman is a North Carolina board-certified Specialist in Family Law. He is committed to confronting this serious problem on campuses and in the community.
The Raleigh attorneys at Charles R. Ullman & Associates urge you to seek help now if you are being subjected to sexual, physical or mental abuse.
Our legal team includes family law attorneys who can help you with such legal issues as protective orders, separation agreements, starting the divorce process, child custody and child support issues, and seeking alimony payments.
For a confidential consultation with one of our lawyers, call us toll-free or use our online form.