2020 Scholarship Contest Winners
The attorneys and staff at Charles R. Ullman & Associates are proud to announce the winners of our annual scholarship essay contest. This year, students were asked to answer the following prompt:
Why do you think it is important for people to be involved in their communities? How have you helped your own community in your life so far? How do you plan to help your community through your future career?
We received many compelling essays but could only choose three winners. Please join us in congratulating the winners and read the winning essays below.
First Place
Sarah Vetti
The ties that bind… Being a member of a community invokes in each of us a feeling of safety and trust. Equally important, it gives us a sense of belonging where we form lasting and meaningful relationships by truly caring for other people with an open heart and an open mind. A kinship with those who share the same vision, interests and goals; and even with those who do not. Community involvement is so important because it also allows us an authentic feeling of connectivity in the chaotic, disconnected world we now live. It is not only essential for our overall well-being, it has become a fundamental necessity to both our survival and human existence.
According to an article in the Stanford Social Innovation Review "There has been a great deal of research in the social sciences about what a human community is." In defining a community, research indicates it involves specific groups formed by people in society. Communities can consist of informal and formal institutions and can be organized in many different ways. And yet, the review also states that "the meaning of community is complex. And, unfortunately, insufficient understanding of what a community is and its role in the lives of people in diverse societies has led to the downfall of many well-intended "community" efforts."
Community, to me, is not simply defined by the geographical location where I live; it extends well beyond the boundaries of my neighborhood and town. Its complexity can be interpreted by where the foundation lies in creating these "groups"; especially when different personalities, opinions, and motivations diverge into one "group." Yet, it is our individual personal relationship with the 'group,' as well as our altruistic motivation for joining it that can strengthen and foster the ties that bind us—whether it is our shared religious beliefs, the causes we fight for, the organizations we support, the cultures we celebrate, the laws we abide by, the educational institutions we attend, our common interests, the events we promote, or the changes we are passionate about making. Although I genuinely believe that one person can make a difference, I also believe that when people become involved, support each other, and collectively work together they can not only strengthen every aspect of their community, they can develop a sense of purpose and self-worth.
Although my parents are originally from large city, I was born and raised in a small rural community with a population of less than 9,000, where generations of families can be recognized by the street signs that bear their names. Growing up in a place where literally everyone eventually knows your name, I learned early on that being active in our community is more a way of life rather than simply a desire to volunteer or contribute. Having parents who have always instilled in me that living my life with an open mind and open heart was paramount to my happiness, growth, authenticity, and success made it effortless for me to discover and explore the many ways I could be of service; both in my hometown and beyond the four corners of my county.
One of my earliest experiences in becoming involved with my community was as a young child at my sister's school. My parents were always extremely involved in helping out in our community, especially within the school system. My mother volunteered in the parent-run dining hall every Friday at the local charter middle/high school; and whenever she could, she would take me with her. It was there I restocked paper goods, handed out pizza slices, and made certain the tables were cleaned for the next seating. Not only did I love every minute working there, I couldn't wait for the next time I would be able to help out again.
I discovered at a young age that being involved in my community was something I really enjoyed. I also came to the realization that it gave me an immense satisfaction when I was able to help others; making people feel good, lending a hand, or just eliciting a smile from those I came into contact with felt so rewarding. Equally importantly, spending my free time doing something worthwhile gave me a fulfilling sense of purpose. Upon becoming a bit older, I began to actively seek out a variety of volunteer activities, events, and places where I could be of service. From the community service days at my school where we clean up local streets and parks to making care packages for hurricane ravaged communities in the United States; as well as volunteering at our local Safe Haven, Stop Hunger Now organization, Habitat for Humanity, MOLO day (special needs event), Relay for Life events, caroling at the local assisted living facility, spending my summer at the senior center, reading to elementary school children, and organizing a dinner to honor our local Veterans are just a few of the many ways I have volunteered in my community on a continual basis.
During the past couple of years I have been a member of the National Grange Youth Bushy Fork Chapter. The Grange Youth Program helps young people gain the confidence and skills they need to make an impact in their communities and the world. I joined this organization because I wanted to build upon my leadership skills and help others. As program director I have had a more 'hands-on' approach to reaching out in the community and making a significant impact on volunteerism. I've motivated other members by providing an inclusive environment and through our sponsored events, we have created a welcoming place for all people—a place where everyone is important and included simply for who they are.
Throughout my life, I have had an innate need to help people. From a young age, I was always encouraged to put myself in the other "person's shoes." I am compelled to root for the underdog and can intuitively recognize those who are sad, depressed, or lonely. I am acutely aware of the chaos present in the world and my greatest desire is to make our world a kinder, more compassionate, and peaceful place to live. My career goal is to assist investigative agencies in their crime-solving process; along with recognizing, understanding, and providing help to children and adults who are afflicted with mental illness. I am passionate about exploring, discovering, and implementing viable solutions that will make our world a safer place and attain a sense of stability. I am a true believer even the smallest changes can make a positive impact.
As I continue on my journey of becoming a young adult and head off to college in the fall, I will continue my community involvement and encourage others to become involved. I eagerly look forward to exploring and learning about the diverse causes, organizations, and events I can make a contribution to—whether it is within my college community, the city I reside, or the world we live in. I will always seek out ways to help in the community because doing so has become a part of who I am as a person. When given the choice, I will always choose to support and strengthen the ties that bind us, rather than become a part of anything that divides us.
Reference: Chavis, David M. "What Is Community Anyway? ." Sanford Innovation Social Review, 12 May 2015, ssir.org/articles/entry/what_is_community_anyway.
---
Second Place
Cristopher Lawrence Everett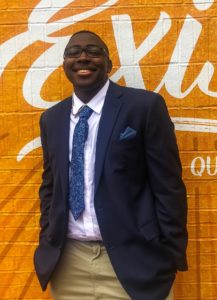 Being involved in one's community is undoubtedly the most important impact one can have in life. I believe that it is important because it represents an understanding of self sacrifice and service to someone other than yourself. If I had to capture my love for service into one single quote, it would be the following by David Green: "You need an attitude of service. You're not just serving yourself. You help others to grow up and you grow with them." By performing public service, one is allowed to grow into the person they've always wanted to be, while pouring back into the lives of those in your community. Community involvement is the purest form of gratitude one could possibly show towards those around them, enabling them to help others also grow into the best versions of themselves.
Throughout my life so far, I have used my numerous leadership positions to become a servant to my community. At my local high school, I currently serve as Student Body President. Through this position, I have worked to implement many initiatives that better the lives of students both in and out of the classroom. Although my position has allowed me to help my school community in many ways, the most impactful way is my work in partnering with Sandy Hook Promise to host Start With Hello Week. This special event is a week-long spirit initiative designed to draw attention to the importance of mental health and combat student isolation. Paired with this initiative, I hosted a food drive in which all donations were used to supply our in-school food pantry for both students and members of the community. This initiative not only helped to boost student morale, but it has also been of benefit in our current crisis with COVID-19. Because of my Start With Hello Week initiative and the corresponding food drive, my local high school was able to donate the food supplies I gathered to families in need during this global pandemic. In addition, my initiative has allowed me to assist my guidance counselors in providing opportunities for mental health check ups with students during this challenging time. Along with in-school leadership, I also serve on the North Carolina State Superintendent's Student Advisory Council. This is an elected position that allows me to work alongside the State Superintendent, Mark Johnson, and other local and state governmental officials. As a member of this council, we discuss inequalities in education impacting schools across the State of North Carolina. This position has allowed me to help my own community by giving me a seat at the table to discuss these pressing issues and advocate for my local community. As a result of my service with the State Superintendent, I have been able to provide insight on the state of schools across the state and work towards brainstorming solutions that will improve the lives of students both in and out of the classroom. This position has also allowed me to be an active component in 1 Christopher Lawrence Everett discussions with state officials regarding the grading for public schools across the state of North Carolina, thus enabling me to continue to be of service to students and staff across my state during this pandemic. Outside of leadership positions, I have continued to find ways to expand my reach into the community, specifically through peer mentorship. At my local high school, I am a member of Fellowship of Christian Athletes, a club that has provided me with an opportunity to become a peer mentor for fourth and fifth graders at a local elementary school in my community. My service as a mentor has allowed me to pour into the lives of the younger generation as we work on their in-school goals and the overall improvement of character. This position has not only given me the opportunity to help young students achieve their goals, but it has allowed me to become an active figure in their lives to lean on when necessary. Other than peer mentorship, I also participate in many community service activities through my home Church, specifically our Back to School Explosion. This is an annual event in which we distribute over 3000 backpacks filled with school supplies, provide food, free haircuts, and offer essential services like dentistry services for people in my surrounding communities. As a result of my service to this event, I have been able to do my part in ensuring that all students in my community are given the proper resources that will enable them to thrive in the classroom. Regardless of whether the activity is in or out of school, I ensure that anything I do is of service to my local community.
In the future, I hope to become an active component of the American Government through the field of politics. I plan to attend the University of North Carolina at Chapel Hill to pursue a degree in Public Policy, Political Science, and Peace, War and Defense. With my degree, I plan to work for the United Nations in New York City, and then eventually become a Congressman on Capitol Hill. My future career will enable me to help my community by systematically altering the function of our government and advocating for all people, regardless of race, gender, or sexual orientation. I hope to spearhead a multitude of bills that call for changes in our U.S. Justice System, specifically regarding issues ranging from environmental protection to immigration reform. As a result of my desires to work in government, I will be enabled to become a trailblazer that encourages the implementation of not only social equality, but social equity.
As one can see, everything I do is in hopes of serving my community. Whether it involves being on the front lines as a leader or being a helping hand in the background, I dedicate every ounce of my energy to helping others. My service has not only provided me with 2 Christopher Lawrence Everett opportunities to impact others, but it has also had a big impact on myself. I have been able to grow into the best version of myself, while also learning the importance of service and self-sacrifice. My community involvement has enabled me to become an active component in my state and local communities, thus allowing me to become a servant to a cause that is bigger than myself.
---
Third Place
Sarah Elizabeth Rhoney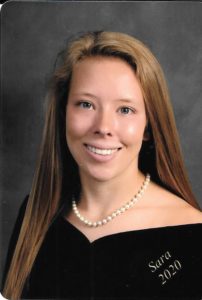 Most high schoolers view community service as something required by their school, or a club they are in. Most high schoolers look for the easiest way to get their community service hours in. Most high schoolers, when they actually go to do community service, do it half-heartedly or with a bad attitude. I do not consider myself to be like most high schoolers. I view serving my community differently. I don't look at it as something I just need to check off my list to stay in a club or to graduate. I view it as a way to give back to my community, a way to help others who cannot help themselves, or simply as a way to do something good in a world where so many bad things are going on.
Both of my parents work at a church, so I have been blessed with many opportunities to serve my community through the church. For six years, I served in my church's preschool in the three and four year old classroom. I loved doing this every weekend because many of those kids came from rough homes and to them, church was a safe place. I loved helping the children learn through Bible stories and fun activities, and putting smiles on their precious faces. That is what I lived for every time I walked in that classroom. About a year ago, my youth pastor approached me and asked if I would like to start serving in my church's fifth and sixth-grade ministry. I was very reluctant to leave my preschool classroom, but eventually decided it was about time to try something new. I have now become the small group leader of a group of fifth-grade girls, and have fallen in love with them. They have all become like little sisters to me. Whether it's talking about one of their basketball games over the weekend, or how many scrunchies one girl is able to wear on their arms at once, I wouldn't miss a minute of it. I never knew how much of an impact I had on those girls until a few weeks ago, one of them handed me a note before she left church one day. When I got home I read the note, and it touched my heart. She wrote how much she looked up to me and how much it meant to her that I had taken the time to get to know her. Ever since then, I have been more intentional with the time I have to spend with those girls. I know soon I will be headed off to college so I really try to make the moments I have with them special and something that they can look back on with joy.
I have been given many other opportunities to serve in my community and other communities. Several times I have gotten to serve at the Hesed House, a homeless shelter in Lincolnton, North Carolina. There I have made and served food to the homeless, and on a few occasions cleaned the shelter so it can be as pleasant of a place to be in someone's time of great need. Each year my family and I do Operation Christmas Child shoeboxes. We each get a box and buy toys and necessities for people we do not even know around the world. Many years, we have gone to the warehouse to help package the shoeboxes to be shipped to many foreign countries. In the fall of 2017, I took one of my greatest adventures ever. I spent a week in Maliarette, Haiti on a mission trip. Years ago, Haiti was hit by a massive earthquake that tore the whole country apart. Since then, their government has crumbled even more than it already was, and many hurricanes have come by and increased the damage made by the earthquake. While there, my group helped start a garden so the community could support themselves, repaired a road that had become hard to travel by, and volunteered in the local school.
I know personally, my experiences with serving my community, have shaped me to be the person I am today. Through these experiences, I have discovered what I would like to do in the future. Next year, I will be attending Western Carolina University to study recreational therapy. Recreational therapy is a process that uses recreation and other activities to improve physical, mental, emotional, or spiritual health. After getting a degree in recreational therapy, I would like to get certified as a child life specialist. Child life specialists work with pediatric healthcare patients and their families in hospitals and other healthcare settings to help them adjust to life in a hospital or life with an illness or disability. To pursue a career as a child life specialist would be a dream come true for me. With a career like this, I can help both children going through incredibly hard times and their families who are heavily affected by the situation as well. I would be honored if, one day, I would be able to come home after a long day of work, knowing what I had done that day had helped make one person's life just a little easier or a little brighter that day.
Ever since I was little, my parents have always taught me it was important to serve the people around me. When I was younger, I just saw it as a chore. Now however, I realize the importance of it. Serving my community and the people in my community is now so important to me. Not only does it leave a lasting impact on the world around you, but it helps people, especially young people, learn things that school, Google, or Ted Talks can't teach you. Participating in community service teaches you compassion for other people. It teaches young people to think of someone other than themselves. It teaches responsibility, time management, communication skills, and many other important life lessons. I believe that everybody should participate in some form of community service at least once. Whether it's simply picking up trash around your school, or helping out at your local nursing home, community service makes a huge impact on the world, and people around you.