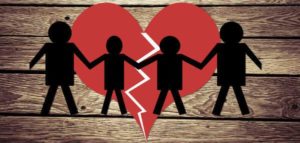 Since its debut in 1969, the world's most popular show for kids has taught us a lot more than how to get to Sesame Street. Even one of the show's few failures has something to teach us: Divorce is an incredibly difficult topic for children.
"Sesame Street" producers learned that the hard way in 1992 when they had Snuffleupagus broach the subject with Big Bird for a test audience of preschoolers. "My dad is moving out of our cave," Snuffy says. The reaction was so awful, with tears and fears of losing mommies and daddies, that the project was never aired, and the subject was avoided until 2012.
Because of the high rate of divorce in the United States – between 40 percent and 50 percent of marriages fail, according to the American Psychological Association – "Sesame Street" took up the challenge again. This time the wee fairy Muppet Abby Cadabby brings it up, and she has the magic it takes to make it work, especially when paired with all the songs, videos, coloring books, storybooks, apps, and other bells and whistles that come with the educational project titled "Little Children, Big Challenges: Divorce."
Divorce: From Muppets' Lips to Kids' Ears
The heart of the "Sesame Street" divorce toolkit is a video presentation that includes a highlights segment. Some of the main messages for children can be found in the following segments:
"What Is Divorce?" shows the magnitude of divorce as seen through a child's eyes. The first segment features Abby, Elmo, and Rosita drawing pictures of their homes. Abby puzzles her pals when she holds up pictures of two homes, one where she lives with Mommy, and one where she lives with Daddy.
Longtime human character Gordon (Roscoe Orman) steps in and explains the physical realities of divorce that Abby's two pictures represent after Elmo asks, "But Abby, why don't you all live in one house together?"
Abby says the "D" word, and Gordon explains what it is and why, in gentle, simple terms.
"Abby's Story" shows that children can emerge from divorce feeling loved and accepted. Abby's magic crayons draw the home where her family had lived together, with a rainbow overhead. It shows the three of them sitting on a couch: "Mommy and Daddy told me they decided not to be married to each other anymore, but they said they both still loved me very much.
"My Mommy would still be my Mommy, and my Daddy would still be my Daddy, and they would always love me and take care of me, no matter what."
"It's Not Your Fault" shows that children can – but shouldn't – feel responsible for the split. This is where Abby confides in Gordon about her parents' divorce: "Sometimes I worry that it's really because of me."
Gordon assures her that divorce is "about problems between grown-ups." He tells her, "You didn't make this happen."
That cheers her up slightly, enough to wonder whether one of her magic spells could keep them together. Gordon sighs and explains that "not even magic could change something like this."
"Big Feelings" shows that children, too, must grapple with a wide array of emotions. Gordon addresses Abby's emotional turmoil over having, as she says, "so many different feelings at the same time." He explains with a song that opens with: "There are so many different feelings that can be inside of you."
"Changes" shows that children must be taught that expressing and discussing their emotions will help. Gordon explains to Abby that "whenever you're going through a big change, it's important to talk to someone about what you're thinking or feeling."
"Bird Family Song" shows that it helps for children to know they aren't the only victims of divorce. Overhearing Rosita, Elmo, Abby, and Gordon talking about divorce, a little Birdie flies down from the nest he shares with his mother and says his family, too, is divorced. Dad lives in a different tree, Birdie says. "They live in different places, but they both love me," he sings, bringing divorce into perspective as something many families experience.
"Chase's Story" shows the ramifications of divorce through a real boy's story. The story broadens here, taking on human form. Viewers meet Chase, a 10-year-old boy who has lived with his grandmother and mother since he was 5, when his parents' divorce landed him in a new home with new friends and a new school.
It's a "different kind of family," Chase's mother explains. "It doesn't have to be sad, right, and it doesn't have to be – people don't have to be angry at each other."
"Chase's Family Support" shows that a change in family structure does not mean the loss of family. Viewers meet Chase's aunt, uncle and cousins, and Chase explains that people he loves are not gone from his life. "I still have my family to be with."
"Victoria's Story" shows the dismay that a 10-year-old girl felt upon learning her parents would divorce. Victoria, now 11, learned when she was 10 that her parents would be divorcing. She explains how she, too, has faced a lot of change. In the end, she says, the people she loves are still in her life.
"Supportive Friends and Family" shows that seeking professional help and opening up to others can make a difference. Victoria shares about her family undergoing counseling, "talking it out." That "makes you feel just a little bit better," she says. Communicating with friends and family is the trick, she says.
A Comprehensive Toolkit
Along with the videos, the Sesame Street divorce toolkit includes:
A parent-caregiver guide with helpful resources, language, and advice for discussing divorce with children and helping them deal with changes
A children's storybook, "Two-Hug Day," about a boy named Niko who is transitioning between his parents' two homes
A tip sheet for extended family and friends
Webinars and online discussion sessions to help people engage with their families and communities
A Facebook page called Sesame Street in Communities
A mobile application, "Sesame Street: Divorce," featuring resources and tools for parents and caregivers
If you or a loved one is coping with the challenges of divorce, Sesame Street's toolkit could be a big help. At Charles R. Ullman & Associates, we also provide extensive divorce resources to assist parents who are struggling to get through this difficult time.