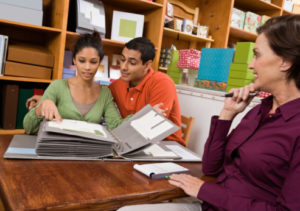 Spring is here, and wedding season is in full swing. Planning a wedding is one of the most exciting times in a couple's life. But it can also be stressful for children of divorce who feel torn about how to make decisions involving parents and stepparents – and others who are involved as a result of divorce – at  their nuptials.
Consider some of the most basic decisions that must be made when planning a wedding:
Who sits where?
Who walks the bride down the aisle? Tradition would leave this step to the biological father, but sometimes the stepfather has been more of a "parent" in the child's mind. It won't be easy for her to decide.
Who's going to stand where in the photographs?
What if the parents' divorce was recent – and nasty? Will it reopen wounds that are only beginning to close?
It's naive to think that all parents will be selfless and do the "right thing," which is to support their child's decisions no matter what they may be. Many children are fearful about even broaching the topic with their parents because the topic is so sensitive.
The New York Times recently published an article discussing the etiquette decisions that children of divorce have to make as they plan their own weddings. The story presents anecdotes from children of divorce whose parents have broken up and describes their feelings about having to mediate between them – something that no child (regardless of age) should ever have to do. It's worth a read.
It's also important to consider that research shows that adult children of divorce are more likely to divorce than other populations. Experts also suggest that some children of divorce experience a kind of identity crisis as a result of divorce that shatters their childhood expectations of family. These feelings can carry  over into adulthood and color their attitudes about marriage and love.
In North Carolina, decisions about children in a divorce are always made on what is in the best interest of the child. Obviously, that doesn't apply to children once they are no longer minors, but remember that it's always important to consider how your divorce can impact your children in the long term. Few parents want to ruin their children's happiness, but they may not realize how something as simple as a seating chart can cause undue stress and pain.
The bottom line: Talk to your children about your attitude regarding the particulars of the wedding. It may help them make decisions that are considerate to all.
The attorneys at Charles R. Ullman & Associates handle issues involving separation, divorce and child custody.  Talk to a qualified family law attorney in Raleigh by calling 888-975-0465 or filling out our online contact form.