4 Tips for Rebuilding Your Life After Domestic Violence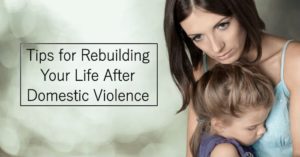 If your abuser is near and you need to quickly leave this page click on the button below.
Life after domestic violence can feel overwhelming, and knowing how to move forward can be very difficult. Although there are certainly challenges ahead, it is important to remember that you have removed yourself from an unhealthy relationship and dangerous situation, and that you should be proud of yourself as such. As you navigate life after domestic violence, here are some tips that can assist you in securing a brighter future:
Surround Yourself with People Who Make You Feel Good

Not only can escaping from domestic violence leave you feeling lonely, but you may also feel betrayed, unlovable, and insufficient. These feelings are very powerful and can lead to depression and questions about your self-worth. One thing that can help is to surround yourself with people who make you feel good ─ friends, family, and coworkers alike. You can also join a support group for those who have been affected by domestic violence, or consider taking up a new hobby that involves socializing. During this process, DomesticShelters.org also reminds you to be patient with yourself.

Seek Practical Help

In addition to seeking support and love that will boost your mood and bolster your self-esteem, you may also need some practical help. This might include assistance from a financial professional who can help you to get your accounts and finances in order, or a housing professional who can help you and any children you have find a place to live. Practical and financial recovery after domestic violence can be difficult. Do not be afraid to reach out to organizations that offer tips, support, and classes on being successful and independent.

Give Back to Others

One thing that can help you feel more purposeful, as well as distract you from negative emotions that you may be experiencing, is to give back to others through volunteer work. You may choose to volunteer with a domestic violence shelter or help organization, assisting other people who have gone through a similar experience as you. Or you may choose to help others in a completely separate ─ yet equally as fulfilling ─ manner.

Talk to a Mental Health Professional about Life after Domestic Violence

As mentioned above, domestic violence can take a toll on your psychological and mental health, resulting in depression, anxiety, feelings of self-doubt or uncertainty, and even post-traumatic stress disorder. To help you manage these feelings and cope with your emotions, it is recommended that you consult with a mental health professional. If you have any children who lived in the home with you at the time of domestic violence, or were victims of the violence themselves, it is especially important that they receive professional care, too.
You Can Achieve Domestic Violence Recovery
Domestic violence recovery is difficult, but you can do it. At the law offices of Charles R. Ullman & Associates, PLLC, our experienced domestic violence attorneys are here to help you protect yourself from domestic violence and take the next steps in life, including filing for a divorce and seeking custody of your children. For your initial consultation, contact our law offices today.