Cary Mediation Lawyer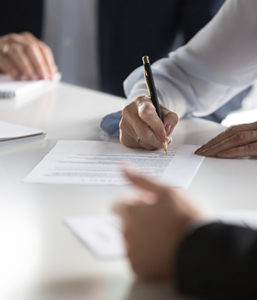 As a family law firm in Cary, Charles R. Ullman & Associates has helped numerous clients to resolve a wide variety of issues through mediation. Our attorneys see mediation as a way to cut down on our clients' costs, stress and the time involved in resolving a disagreement with their spouses or former spouses.
If you and your spouse are ready to develop a divorce agreement that addresses your needs or to work through another legal issue impacting your family's life, Charles R. Ullman & Associates is ready to help you get it done through mediation.
To learn more and schedule an initial, confidential meeting call us today or complete our online contact form.
Why Choose Mediation for Your Divorce?
Mediation is a process in which two parties sit down to resolve a problem with the help of a skilled facilitator. A mediator doesn't choose sides or make decisions. A mediator in a divorce helps a couple to move forward by keeping discussions focused and asking questions that help to identify and resolve conflicts.
The mediation process is informal and flexible. Each spouse gets a chance to have a say and be heard in an environment that is much more relaxed than a courtroom. Mediation also cuts down on the number of people involved in a divorce, allowing fewer cooks to spoil the broth. Mediation allows the divorcing couple to end their marriage on their own terms.
Mediation can resolve issues such as:
Division of marital assets
Child custody and visitation
Child support
Spousal support.
In most North Carolina counties, couples are required to enter mediation about child custody and division of assets before their divorce is heard in court. Participation is mandated, but the law cannot require or guarantee a successful outcome.
The lawyers of Charles R. Ullman & Associates are trained to listen and understand each spouse's needs and then present options that reflect the couple's desires. We know how to ensure an equitable discussion that prevents one spouse from dominating the proceedings. In the few cases where it is appropriate, we will put an end to discussions if we believe mediation is not the proper path for you.
A divorce agreement developed in mediation is not binding and must be approved by the court. Either spouse may challenge the agreement's contents in court, but this is less likely since both spouses helped to draft it.
Our Cary Mediation Lawyers Can Help You
Mediation provides divorcing couples a much easier path to the amicable dissolution of their marriage. It is crucial to have an attorney by your side throughout the mediation process who can help make the path to an agreement as smooth as possible while also ensuring that your rights are fully protected.
The attorneys of Charles R. Ullman & Associates are ready to help you reached a mediated agreement in your family law issue and move on with your life. Get started today by calling us or contacting us online. We can provide a confidential consultation about your case.