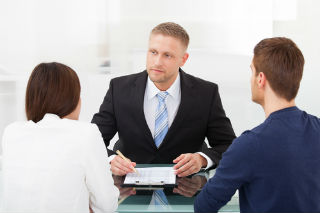 If you're considering divorce, it is natural to hesitate. Emotional upheaval and increased conflict may seem inevitable.
You and your spouse may agree on several topics related to the divorce, but you may have some fundamental disagreements. The prospect of court dates, time, and costs may be daunting. If this sounds familiar, collaborative divorce may be an option that you want to consider.
Attorney Charles R. Ullman focuses his legal practice exclusively on family law matters including collaborative divorce, mediation and family law arbitration.
He has more than 20 years of experience counseling individuals who are ending their marriage and representing family law clients. He is certified by the North Carolina State Board as a Specialist in Family Law.
Charles R. Ullman & Associates is involved in the community and in domestic violence prevention. If you are considering trying a collaborative divorce to work through the issues entailed in ending a marriage, consider Charles R. Ullman & Associates. Charles Ullman will take the time necessary to understand your family circumstances and help you find workable solutions.
Call an experienced collaborative divorce attorney serving Raleigh, NC, at
(919) 829-1006
What is Collaborative Divorce in North Carolina?
Collaborative divorce is a type of dispute resolution that seeks to avoid the conflict, combativeness, and emotional strife of contested litigation in divorce court.
Collaborative law seeks to put both you and your spouse on the same side of the table as you communicate and work through various issues regarding your separation and divorce.
The general concept is it's better for couples to work through areas of disagreement informally when possible than having a family law judge settle your differences.
During a collaborative divorce, you work with lawyers and other professionals as needed to create the framework of a divorce settlement that reflects the best interests of you, your spouse, and your children.
Collaborative divorce is a more informal process and can help you produce results that address your family's specific needs.
Couples may choose to pursue a collaborative divorce to:
Create a temporary agreement for breathing room while they focus on building a more permanent arrangement.
Exchange necessary information without feeling threatened or defensive.
Jointly choose the legal processes needed to streamline the process and jointly avoid legal procedures that complicate the process.
Create a settlement that works for every involved person.
Set ground rules for handling post-divorce communication and decisions.
Before diving into a collaborative divorce, it is best to share the idea with your spouse. If your relationship is cordial, you may do this directly or you may seek the help of a friend or family member.
Because collaborative divorce is a voluntary process, it works best when both parties are willing participants. If your spouse is hesitant to take part, the negotiations may be unproductive.
Collaborative Divorce Process
You and your partner will each hire an attorney if you decide to pursue a collaborative divorce. You should select an attorney who is committed to the dispute resolution process.
Collaborative divorce begins with a document called a "Participation Agreement." This agreement is typically signed at the first four-way meeting of you, your attorney, your spouse, and your spouse's attorney. It sets ground rules for the collaborative process.
Typically, your Raleigh divorce attorney for the collaborative divorce process cannot be the same attorney who goes to court with you if the collaboration fails.
The collaborative divorce participation agreement takes going to court off the table for the duration of the process. Spouses gain support in working together, and attorneys can focus on supporting the collaboration instead of preparing for an adversarial fight.
Common ground rules in the participation agreement include a commitment to fair and open communication, keeping disagreements between the adults and away from the children, and following an agreed-upon process for ending the collaboration. Which rules you need in your participation agreement depend on your particular situation.
If you are likely to need the help of another neutral expert, like a financial specialist or child specialist, you may also discuss who to choose at the first four-way meeting. You can also discuss hiring specialists to help at a later meeting if the need arises.
Four Conversations in the Collaborative Divorce Process
You may think of the collaborative divorce process as involving a series of important discussions about issues that must be resolved at the end of a marriage.
For example, if you have accumulated debts and property during the marriage, these must be divided fairly.
The discussions in the collaborative divorce process are:
Terms of Separation and Responsibility for Household Expenses
Child custody and parenting arrangements
Equitable distribution of marital property
Alimony
During each four-way meeting, the focus should be on resolving the issue at hand in a way you and your spouse can accept and that supports your children's best interests.
The discussion may be difficult and painful, even when you are committed to reaching an agreement.
If you reach a sticking point, asking a neutral mediator to step in is an option. Mediators focus on identifying the points of contention and steering the negotiations in ways to resolve those conflicts.
The mediator's job is to help you and your spouse find common ground without taking sides. Some mediators specialize in collaborative divorce mediation. Your attorney or your spouse's attorney may be able to recommend mediators.
Once the issues are resolved, you, your spouse, and your respective attorneys will discuss the best way to implement them. At this point, you may need to file court paperwork simply to make the divorce decisions official.
You, your spouse, and your lawyers will discuss the best way to accomplish this task while keeping both costs and stress levels as low as possible.
In some situations, spouses simply cannot come to an agreement on an issue. If this is the case, the collaborative process can be ended using the rules set out in the Participation Agreement. Your family lawyer and your spouse's attorney withdraw from the case, and you are free to pursue litigation.
Pros and Cons of Collaborative Divorce
Among the advantages of collaborative divorce are the following:
Collaborative divorce can save time and legal costs if you and your spouse can have productive discussions.
Couples have the flexibility to decide the schedule.
If you and your spouse can reach an agreement, it can help avoid bitterness and hard feelings.
A positive outcome can allow for a better working relationship between you and your ex, which is important if children are involved.
As a general rule, the cost of collaborative divorce is less than going to court and litigating a contested divorce.
Among the disadvantages of the collaborative divorce process are:
Talking through issues with your ex may be painful.
The process will not work unless both sides are sincere in wanting to reach a resolution and requires compromise on both sides.
The process may not be workable if domestic violence has occurred or if one spouse has significant mental health issues.
The process may not be workable if one spouse tries to dominate the process or feels one spouse feels intimidated by the other.
If you and your spouse are unable to reach an agreement through collaborative divorce, then you will have to start over. You will need to hire another attorney to litigate the divorce.
The information shared by experts in the collaborative process is privileged information and cannot be used by either side in a divorce court proceeding if the collaborative process fails.
You have to gauge whether you and your spouse will be able to set aside any hard feelings and reach an agreement.
How Does the Collaborative Process Differ from the Traditional Divorce Process?
The collaborative divorce process is informal and non-adversarial.
Unlike a traditional divorce, the dispute resolution process is not dictated by court timetables or deadlines. Instead, you and your spouse control the process.
You and your spouse commit upfront that you will not resort to going to court to resolve your differences. You are seeking to reach a mutual agreement that both sides accept rather than trying to score a legal victory over your spouse in court.
The process involves a series of four-way negotiations involving you, your spouse, and your attorneys. Your attorney will advise you on the law.
You and your spouse may jointly engage the services of certain professionals such as a financial advisor or child specialist to offer advice on issues such as the distribution of finances, division of personal property, and issues related to children
If either party decides to go to court, then the two attorneys involved resign from the case and you will hire a new attorney to represent you in divorce court.