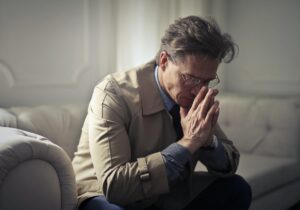 People in their 50s or 60s are normally focused on having financial security in retirement and spending more time with their families. But a divorce can disrupt an individual's financial plans if it is not handled with the proper care. Poor decisions about the division of property and assets and alimony payments as part of a divorce can cause financial devastation on top of emotional turmoil.
Unfortunately, more North Carolinians are facing these issues in their later years. A recent Kiplinger Report says the rate of gray divorce among Baby Boomers is climbing due to a perfect storm of societal factors. Divorce has significant financial implications for those who end their marriages at or near retirement age.
At Charles R. Ullman & Associates, our law firm's Raleigh, NC, divorce attorneys work to handle the legal aspects of divorces with compassion as well as dedication to protecting our clients' rights and interests. There are steps to take during a divorce to protect the assets that someone in their 50s or 60s has likely spent a lifetime accumulating. The best thing to do as soon as you and your spouse agree to separate is to contact our family law attorneys at (919) 829-1006 or online. We can help you make sound decisions to protect your future.
What Are the Main Elderly Divorce Issues?
The U.S. divorce rate among adults age 50 and older has roughly doubled since the 1990s, according to the Pew Research Center. The reasons are unique to the generation of Baby Boomers who are now in their late 50s, 60s, or 70s.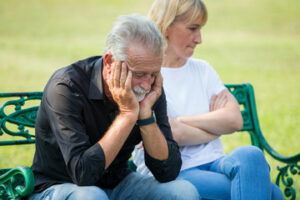 The factors as to why gray divorce happens include:
Reduced divorce stigma, which has given women in particular more freedom to walk away from unhappy marriages than they felt in earlier years
Longer life expectancies offering more motivation to seek a better situation
Postponed divorces among couples who stayed together for the kids were grown
Repeat divorces among Baby Boomers who have been married multiple times
Forced extended time together during the pandemic put a sharper focus on conflicts in some marriages that may have otherwise been overlooked.
Main Financial Issues in Gray Divorce
Gray divorce may lead to financial insecurity because older divorcees are less likely to be working and have a steady income, SmartAsset financial advisors say. Seniors who are still working have less time to save and recover financially from the impact of a divorce on their retirement savings.
Kiplinger says that women in particular fail to fully recover from the financial consequences of divorce. A study by the Social Security Administration found that around 20% of divorced women 65 or older live in poverty and are less financially secure than married or widowed adults.
To keep this from occurring among our older clients, our family attorneys work closely with clients to consider the financial aspects of issues that should be settled as part of a separation agreement.
A few of the issues of particular importance in elder divorces include:
Division of Assets. In addition to deciding what is marital property or separate property (belonging to one spouse or the other, such as inherited money), an older couple may have considerable assets in retirement or pension plans that must be equitably divided. The rules for splitting retirement assets differ according to the type of account, such as IRAs, 401(k)s, pensions, and deferred compensation programs, such as restricted stock units (RSUs). Dividing retirement funds can be complex and may have detrimental tax consequences if done incorrectly.
Catch-up Contributions. Because a divorce generally cuts assets in half while many expenses stay the same, it's not unusual for divorcees nearing retirement to decide they must work longer or lower their standard of living. Meanwhile, people who are 50 and older and financially capable are allowed to exceed the IRS's annual contribution limits for 401(k)s or IRAs so they may increase these funds for later years.
Spousal Support. It is not unusual for one spouse in a marriage to earn significantly more than the other or for one not to work outside the home. Because of their age, the lesser-earning spouse in a gray divorce is likely to have less time and opportunity to significantly increase their earnings, so they are likely to have a need for alimony. As couples marry and decide that one of them will be a stay-at-home spouse, it is advisable to enter into a prenuptial – or postnuptial – agreement that addresses financial support in case of a divorce.
Social Security Benefits. An older divorcee may be able to obtain a better Social Security benefit if they have earned less than their spouse and qualify for benefits based on their spouse's earning history.
Social Security benefits are available to an applicant if:
the marriage lasted 10 years or longer
the applicant is unmarried
the applicant is 62 or older
the applicant's ex-spouse is entitled to Social Security retirement benefits, and
the benefit the applicant is entitled to receive is less than what the applicant would receive based on their ex-spouse's Social Security contributions.
Contact an Experienced Raleigh, NC, Divorce Lawyer
A divorce in your later years can deal a lasting financial blow that makes what should be a rewarding period of your life much tougher. If you are in your 50s or 60s, it is particularly important to work with a knowledgeable divorce lawyer who has experience handling the financial issues that arise in a so-called gray divorce as well as a thorough understanding of North Carolina divorce and family law.
Attorney Charles R. Ullman has more than 20 years of hands-on experience helping clients successfully resolve family law matters such as legal separation, divorce, child custody, alimony, property division, and related domestic issues. He and his associated attorneys are personable and caring lawyers whose approach as domestic law attorneys focuses on understanding, consideration, and fairness. We hope you will trust Charles Ullman & Associates to help you and protect your interests as you go through a divorce. Call us today at (919) 829-1006 or reach out online to find out how we can help.