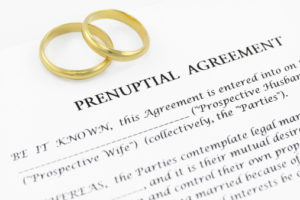 A prenuptial agreement is a legal contract signed by two people before they marry. The document lays out their agreement about how their assets would be divided if they should divorce. A prenup can give you peace of mind – but is it just setting your marriage up for failure?
A prenuptial agreement eliminates any question of whether your spouse-to-be is marrying you for your money. The agreement not only specifies how property would be divided in a divorce but it also establishes whether there would be alimony payments and if so, how much. The document may also determine what bequests would be created in your wills
Here are some reasons to get a prenup:
Clarify Motives
With a prenup, you don't need to worry whether your spouse is interested only in a giant divorce settlement. Because of this, a prenuptial agreement may actually make it less likely you will divorce. If your spouse is simply out for the money, the agreement will likely end the relationship before it ever gets to the altar.
Protect Your Family
A prenup provides financial protection for your family. If you have children from previous relationships or marriages, their inheritance is protected. This can lead to easier acceptance of the marriage by the children and a happier family.
Ease Uncertainty
If you create an agreement before or after marriage (an agreement signed after you are married is called a postnuptial agreement), you reduce uncertainty. Both of you know exactly what you've signed up for. You no longer have to worry about protecting your assets or who has all the financial power in the marriage. You discuss it, it's agreed on, and you never have to revisit it.
Debt Protection
While most people think prenuptial agreements only divide up assets, they also discuss debt. The agreement can provide protection and peace of mind if your spouse carries a lot of debt and you don't want to be responsible for it.
Less Stressful Divorce
Should you end up divorcing, the agreement would drastically reduce your legal fees, curtail stress associated with divorce, and allow the process to move much more quickly.
Some people argue that a prenuptial agreement forces you to envision your marriage failing and creates an expectation you will divorce. In reality, mature adults consider negative outcomes in many aspects of their lives: This is why we buy health, car and homeowner's insurance. We childproof our homes to prevent an injury. We wear a life jacket so that we don't drown. A prenuptial agreement is just another safety mechanism.