North Raleigh Divorce Lawyer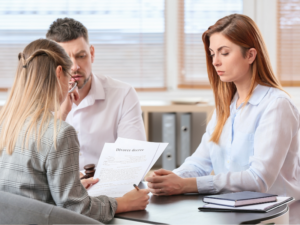 The lawyers of Charles R. Ullman & Associates understand the challenges a North Raleigh resident faces when planning to get a divorce. We can provide the legal help you'll need to make forward-looking decisions about ending your marriage and the compassion you'll need to move forward.
The divorce and family law lawyers of Charles R. Ullman & Associates have proudly served North Raleigh and other Wake County communities for more than a decade. We assist clients with a variety of domestic and family law issues, including divorce, separation, child custody and visitation, child support, alimony, and the equitable distribution of marital assets.
Charles R. Ullman is a North Carolina State Bar-certified Family Law Specialist. He is a veteran trial attorney and accomplished at mediation. Mr. Ullman has helped many clients craft separation agreements that protected their interests.
Our experienced attorneys at Charles R. Ullman & Associates can guide you through all aspects of divorce. Get started by calling us today or completing our online form to schedule a consultation.
What Are the Requirements for a Divorce in North Raleigh, North Carolina?
North Carolina is a no-fault divorce state. This means there is no need to prove marital fault –adultery, cruel and abusive behavior, habitual drunkenness, or addiction – to obtain an absolute divorce.
North Carolina requires you to establish one of two grounds for divorce:
Separation for one year. At least one spouse must live outside of the marital home for 12 months. If the couple reconciles and resumes living together, then the clock starts over.
Incurable insanity. A couple must live separately for at least three years due to one spouse's "incurable insanity." The spouse must either be adjudicated insane within the three-year period, institutionalized for that period, or be deemed by at least two doctors to be incurably insane.
Most estranged couples who seek a divorce in North Carolina do so after a year's separation.
North Carolina law also provides for a "divorce from bed and board" and legal separation for cases in which the other spouse does not cooperate with a request for divorce or cannot be located. Legal separation can entitle a separated spouse who demonstrates the need to receive certain benefits such as alimony and child support.
Legal Steps for a Divorce in North Carolina
To file for divorce in North Carolina, at least one member of a couple must have been a resident of North Carolina for at least six months immediately prior to filing. Residency requires an actual physical presence in the state with the intent to remain in the state.
When you seek divorce in North Carolina, you are filing a lawsuit known as a "Complaint for Absolute Divorce." In the complaint, you state your demands such as for alimony or child support.
Once you file for divorce and arrange for your spouse to be served with divorce papers, you must wait 30 days after serving your spouse to request a hearing. This allows your spouse an opportunity to file an answer to your complaint with the court.
At a hearing, a Wake County Family Court judge will have the final say over the terms of your divorce. The judge's order of divorce will make your separation agreement a binding legal agreement. A separation agreement is a private contract between spouses who are separated or plan to separate very soon. Without a separation agreement, a judge will establish the terms of your divorce.
While it seems like obtaining a no-fault divorce in North Raleigh is a simple process, it can be very complicated. Negotiating the terms of the separation agreement and who will be responsible for the monthly household bills and debts can be challenging to resolve. Even if there are no child custody or child support issues to be settled, the equitable division of marital property and other assets as required by North Carolina law can be contentious and complex.
How Our North Raleigh Divorce Attorneys Can Assist You
It's important to work with an experienced North Raleigh divorce lawyer who will provide compassionate and professional legal assistance to help you navigate the divorce process. In many aspects, divorce is a financial matter. How you navigate the difficult issues that arise can end up having a lasting financial impact as well as an emotional one.
As your divorce attorneys, Charles R. Ullman & Associates will work to protect your interests as the terms of your separation and divorce are negotiated and presented to the court.
Typically, divorcing couples work out a separation agreement before appearing before a judge. For many couples, the year of separation required prior to a divorce provides time to complete this task. A separation agreement may address:
North Carolina requires that divorcing couples divide marital assets – those accumulated during the marriage – in an equitable manner. A judge will decide what is equitable.
Divorcing couples are not required to have a separation agreement when they appear in court. But without a separation agreement, the judge must make the decisions that are necessary about spousal support and custody before granting the divorce.
Your divorce attorney will help you negotiate a separation agreement with your estranged spouse. A separation agreement contains the terms of your divorce and is signed by both spouses. At your divorce hearing, you present it to the judge, who should be able to ratify it as your divorce order without changes.
The North Raleigh divorce lawyers at Charles R. Ullman & Associates can assist in the preparation of a separation agreement and help you work through an alternative dispute resolution process to reach an agreement. We can assist you with:
Collaborative divorce. In a collaborative divorce, each spouse and their lawyers and other professionals as needed work to create the framework of the separation agreement and divorce settlement that reflects the best interests of each spouse and their children. Collaborative divorce is an informal process that can help you produce results that address your family's specific needs.
Mediation. In mediation, the mediator acts as a neutral third party to help the divorcing couple find areas of agreement regarding how they will handle significant matters like child custody and child support after their marriage is dissolved. Couples who have not come up with an acceptable separation agreement on their own may be referred to mediation by a North Carolina court.
Family law arbitration. In arbitration, the parties agree to have specific legal issues heard and decided by a neutral third party. The arbitrator hears information and arguments from both spouses and their respective attorneys and then makes a decision. The parties are expected to abide by the decision, although an appeal is sometimes allowed.
Representation in a Contentious Divorce in North Raleigh
Our legal team at Charles Ullman & Associates recognizes the realities of contentious divorces and that highly emotional matters related to divorce may become combative. Your estranged spouse may file a counterclaim putting forth their own demands for the terms of your divorce. It is crucial to have the advocacy of an experienced and knowledgeable North Raleigh attorney who will protect your rights as you work through a contentious separation and divorce.
In a contentious divorce, we will focus on steps to protect you financially and to gather evidence in support of your demands for child custody, child support, and spousal support.
In a contested divorce, both spouses must complete financial affidavits to provide the court details of all assets and properties owned, which are to be divided in the divorce. From these documents we can establish:
The entirety of the marital estate and its value
Marital property obtained jointly after you were married, which must be divided
Separate property acquired before your marriage or as gifts or inheritances which you should be allowed to keep.
It is not unusual in a contested divorce to find that there are accounts or assets that one spouse was unaware of. In some cases, one spouse may attempt to hide assets to avoid splitting them with their estranged spouse or to keep the existence of the additional wealth out of spousal support negotiations.
When necessary, we can engage forensic accountants to search for hidden assets. They can examine records to trace where missing money has gone and how to recover it. If a spouse going through a divorce is found to have concealed assets, the presiding judge may issue sanctions, such as requiring them to pay their spouse's legal fees, or they may alter agreements for the division of assets, and spousal support.
Contact a North Raleigh Divorce Lawyer Today
Charles R. Ullman & Associates is dedicated to providing compassionate and professional legal assistance to clients seeking separation and divorce in North Raleigh and throughout Wake County.
We will use our skills and experience to protect your interests in all aspects of your divorce, including the establishment of child custody, child support, alimony payments, and the division of marital assets. To schedule a consultation, call or contact us online today.