Quick Divorce Lawyer in Raleigh, NC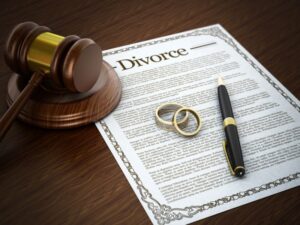 A married couple has to separate and live apart for 12 months before they are eligible to obtain a divorce in North Carolina. After the required period of separation, a skilled divorce lawyer has options for helping a couple obtain a quick divorce under the NC divorce requirements.
The attorneys of Charles R. Ullman & Associates can guide you through the divorce process in North Carolina. Our attorneys will make sure you have the information you need to make the best decisions about your future. A dedicated Raleigh quick divorce attorney at Charles R. Ullman & Associates will stand by you every step of the way.
To schedule a consultation with our Raleigh divorce lawyers regarding the options for a fast divorce, contact us by calling us toll-free or by filling out our online contact form.
Types of Fast Divorce in North Carolina
An absolute divorce in North Carolina is a complete divorce that allows the parties to marry again after their divorce judgment becomes final.
To be eligible to file for divorce in North Carolina, a married couple must live continuously separate and apart for at least one year. At least one of the spouses must intend that the separation will be permanent. One spouse must have been a resident of North Carolina for at least six months prior to either of them filing for divorce.
The 12 months you are separated from your spouse is time best spent letting a knowledgeable attorney help you work through issues such as division of marital property, child custody and support, and spousal support, as necessary.
North Carolina state law provides three options for quickly dissolving a marriage:
Simple Divorce. This is a quick and efficient legal dissolution of marriage available when issues such as property division, child custody, or spousal support do not exist. As long as there is nothing in dispute, the parties need only file paperwork and then testify in court that they have been separated for a year and that one spouse has resided in the state for at least six months. The judge will then issue a divorce order.
Uncontested Divorce. An uncontested divorce occurs when the parties have settled all issues prior to filing for divorce. A judge must review the settlement agreement to ensure that all aspects of it – the division of marital property, child custody, and support payments – are fair and reasonable. Once the judge verifies there are no issues to be argued in court, the judge can grant a divorce decree in an uncontested divorce.
Bifurcated Divorce. Court decisions have led North Carolina and other states to allow the splitting of divorce proceedings. This means you can obtain a divorce and then resolve other issues, such as equitable division of marital assets, child custody, and alimony afterward. When negotiations for a contested divorce are going slow but are progressing, bifurcation allows you to end the marriage while continuing to work to settle outstanding issues.
How Long Does It Take to Get a Divorce in North Carolina?
If your divorce is uncontested or does not require a separation agreement, we would expect to need 30 to 60 days (after your 12-month separation) to help you finalize your divorce. Contested divorces typically take a year or more to finalize, not including the period of separation.
Attorney Charles Ullman has more than 20 years of experience counseling individuals who are ending their marriage and representing family law clients. He is certified by the North Carolina State Board as a Specialist in Family Law. He will take the time necessary to understand your family circumstances and help you find workable solutions.
Our preference at Charles R. Ullman & Associates is to work with you and your spouse and their legal representative in a collaborative divorce. In a collaborative divorce, lawyers and other professionals work informally to help you and your spouse create the framework of a divorce settlement that reflects the best interests of you, your spouse, and your children.
It is better for couples to work through areas of disagreement informally if they can. The alternative is to have a family law judge who does not know you or your family settle your differences.
Save Costs with a Quick Divorce in North Carolina
There are standardized fees associated with filing for divorce in North Carolina. The fee for filing a complaint for divorce is currently $225. It will also cost you either $30 to have the Sheriff serve your spouse with divorce papers or $7 to serve them by certified mail.
If you want to change your name after getting divorced, there will be an additional $10 fee.
When all is said and done, a divorce is likely to cost about $9,700 to $11,700. Uncontested divorces cost less, and the more time spent negotiating issues, the higher the final bill.
The cost of mediation, in which a neutral third party works to help the divorcing couple find areas of mutual agreement, ranges from about $3,000 to $8,000, with each spouse paying half.
If you are handling your divorce on your own, it is still a good idea to have an attorney review your settlement agreement to be sure that it's fair and does not violate your rights.
Let An Experienced Raleigh, NC, Divorce Lawyer Help You
Our divorce lawyers in North Carolina are ready to guide you step by step if you are seeking to end your marriage. Because North Carolina is a no-fault divorce state, a divorce can be obtained quickly and without acrimony, if all involved act professionally. An experienced Raleigh, NC, divorce lawyer with Charles Ullman & Associates can guide you through the process and ensure that your rights and interests are protected.
For more information or to schedule a confidential consultation with our Raleigh divorce lawyers, contact us by calling us toll-free or by filling out our online contact form.