Divorce Statistics for North Carolina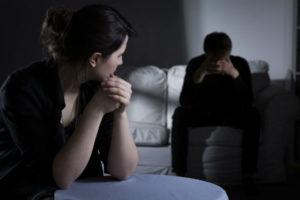 Whether a couple have invested weeks, months or years in their marriage, the moment when it seems as if that union is coming to an end can be extremely frightening and difficult to face. If you believe your marriage is ultimately heading for divorce, understanding how many marriages end in divorce may be helpful for putting your situation in context.
Charles R. Ullman & Associates shares these marriage and divorce statistics for North Carolina and the United States to show that you are not alone in facing this difficult situation.
Divorce Statistics on How Many Marriages End in Divorce?
Marriage and divorce statistics published by the North Carolina State Center for Health Statistics and the CDC's National Vital Statistics System indicate that:
2,132,853 marriages took place in the United States in 2018.
782,038 divorces and annulments were finalized in the U.S. in 2018.
The divorce rate for the U.S. in 2018 was 2.9 divorces per 1,000 people.
At 3.1 divorces per 1,000 people, North Carolina's divorce rate for 2018 was higher than the national rate.
31,913 divorces took place in North Carolina in 2018.
2,803 divorces took place in Wake County (which includes Raleigh, Cary, Knightdale, Holly Springs, Apex, Wake Forest and the surrounding areas) in 2018.
Whats are the Divorce Statistics on Percent of Marriages That End in Divorce?
Although conventional wisdom is that about 50 percent of all marriages fail, that statistic may be misleading. The New York Times reports that approximately 70 percent of marriages that began in the 1990s reached their 15th anniversary, whereas only 65 percent of marriages that began in either the 1970s or 1980s did so. Divorce rates for couples married in the 2000s are even lower.
Kalman Heller, Ph.D., a retired psychologist, also has some insight that may prove helpful in explaining what percent of marriages end in divorce:
"Divorce rates are cumulative statistics, i.e., they don't occur at a single moment in time but add up over the years of marriage and do so at different rates."
In other words, comparing the number of marriages in a year to the number of divorces the same year is misleading. Heller concludes that:
About 10 percent of marriages end in divorce during the first five years.
An additional 10 percent of couples get divorced by the 10th year.
Half of all divorces occur within the first 10 years of marriage.
If current trends continue, researchers predict that only about one-third of marriages will likely end in divorce. Much of the improvement seen in divorce statistics has been attributed to couples waiting until they are older to marry, as compared to couples in the 1970s, who typically got married in their late teens or early 20s.
How Many Separations End in Divorce?
North Carolina requires that couples live separately for a year before they can get a divorce. For many people, that separation period gives them perspective on their relationship.
For people who wonder how many separations end in divorce, research has shown that:
79 percent of couples who separate eventually get divorced.
4 years is the average length of a first separation.
About 7 percent of separations last 10 years or longer.
2 years is the average length of separation for those few couples who reunite.
You Are Not Alone in This
As these divorce statistics show, millions of people across the United States have gone through the divorce process and opened new chapters in their lives. You can, too, with the help of the dedicated Raleigh divorce lawyers at Charles R. Ullman & Associates. Contact us today to discuss the next steps.
Sources: