Alcohol and Domestic Violence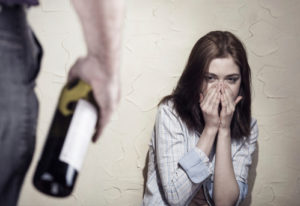 If your abuser is near and you need to quickly leave this page click on the button below.
Not surprisingly, alcohol and domestic violence often go hand in hand. The U.S. Department of Health & Human Services (DHHS) reports that violent men are more likely to abuse alcohol than nonviolent men. In fact, approximately 75% of all spousal domestic violence victims – and 66 % of those involved in non-marital relationships – reported that an offender's behavior involved alcohol abuse.
Other reported statistics show that alcohol and drug abuse only exacerbated domestic violence incidents. According to the DHHS:
Drinking precedes acts of family violence in 25 to 50% of all cases of domestic violence.
Alcohol and drug abuse by violent men ranges from 52 to 85% – rates that are three times those of nonviolent men.
Substance abusers are violent more frequently and inflict more serious injuries. They are more likely to attack partners sexually, and are more likely to be violent outside the home than non-substance abusers.
Alcohol and drug abuse increase the likelihood of domestic violence; not only during periods of intoxication, but also during periods of sobriety.
While everyone has different tolerance levels and behavioral traits when it comes to alcohol and drug use, it's important to recognize the potential for escalation of domestic violence when alcohol and/or drugs are involved.
For example, does your partner behave differently when drinking or using drugs? Are they more argumentative, withdrawn or likely to "lash out" at you for no particular reason? Noticing changes in your partner's behavior that make you uncomfortable or lead you to believe that violent behavior is possible (not necessarily imminent) is the first step in combating the issue and allowing you to decide what's best for you as an individual.
Alcohol / Drug Use & Rape
Surprisingly, rape committed by an offender under the influence of alcohol or drugs is lower than other acts of domestic violence. According to the North Carolina Department of Justice, only 4.3% of rapes reported in 2011 were alcohol or drug related – and only 6% of rapes reported in 2010 were alcohol or drug related.
Resources