Family Law Attorney in Johnston County, NC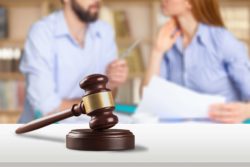 Charles R. Ullman & Associates assists residents of Johnston County with a variety of family law matters, such as separation, divorce, child support, and division of property. Our attorneys are compassionate legal professionals who understand the difficulty of ending a marriage and the need to protect clients' interests in an emotionally charged time. We will listen to your concerns about issues like child custody and marital assets and liabilities, and provide guidance based on more than two decades of experience and our understanding of your goals.
Charles R. Ullman is a North Carolina native who has practiced law since 1993 and began focusing solely on family law in 1996. He is a North Carolina State Bar board certified legal specialist in family law and leads a legal team dedicated to family law and the community. Mr. Ullman also provides his services as a family law arbitrator.
If you are considering separation and divorce in Smithfield, Clayton, Benson, Selma, or another Johnston County community, contact Charles R. Ullman & Associates for a discussion of your goals and objectives. From our law office in Raleigh, our team of family law attorneys is increasingly providing clients from throughout Johnston County our dedicated family law services.
Family Law Services We Provide
The attorneys of Charles R. Ullman & Associates can assist and advise you in matters pertaining to:
Separation
Separation is typically a mutual agreement that one spouse will move out of the couple's home. In North Carolina, a couple must be separated for a year to obtain a divorce. It is during this time that the couple should develop a separation agreement to decide matters like division of assets, alimony, child custody, and child support. We can help you work through the many issues involved in a legal separation and, as your divorce attorneys and advocates, help to prepare a claim that protects your interests.
Divorce
The process of divorce under North Carolina law can be a collaborative process, including mediation or arbitration, or come down to a court proceeding. Our experienced divorce attorneys will get to know you and your needs to help you determine how best to proceed and stand beside you to guide you throughout the process.
Child Custody
It is understandable that child custody can be a highly charged issue in a divorce. Both parents have certain rights and responsibilities for the care of their child(ren), as well as natural parental bonds. Having a legal advocate from our firm on your side can be helpful as you and your spouse determine whether you will share joint custody of a child, or one of you will have sole legal custody. Without an agreement between the parents, a family law judge may award custody based on what he or she sees as the best interests of the child.
Child Support
Regardless of child custody arrangements, you and your spouse will need to develop a child support agreement. The agreement should take into account each of your financial capabilities and can be modified if circumstances change. Our attorneys will help you understand the various approaches to child support arrangements and ensure that any final agreement protects your financial interests.
Spousal Support (Alimony)
Spousal support, or alimony, is granted in a divorce when one spouse has been financially dependent on the other during the course of a marriage. Either spouse may seek spousal support, which is entirely separate from child support. But a poorly drawn alimony agreement can easily become a financial hardship on either party. As your legal advocates, we will determine how divorce will affect your financial future and negotiate a fair financial arrangement for you.
Division of Assets
When a couple splits up, assets acquired during their marriage must be divided as well. North Carolina law prescribes specific steps regarding the division of marital property but allows several approaches. Our objective as your divorce attorneys is to ensure the division of assets in your divorce is equitable and that any particular pieces of property that are meaningful to you go to you.
Domestic Violence Protection
Our attorneys can help you protect yourself and your family if you have experienced domestic violence, bodily harm, fear of bodily harm, rape or other forms of sexual assault. We can explain the types of restraining orders that North Carolina courts issue and help you obtain the protection you need.
When a couple divorces, it has a serious impact on all family members and may adversely affect lifestyle, children's education, and other financial issues if not done correctly. A poorly drawn separation agreement and divorce can cause continuing psychological pain, as well. It is important to engage an experienced Johnston County divorce lawyer who will take the time to understand your circumstances and develop a plan that protects you and your family. Attorney Charles R. Ullman has the knowledge, skill, and dedication required to properly assist you.
Johnston County Family Law Courts
It is best to have a well-designed separation agreement that both spouses have signed off on before a divorce proceeding heads to court. That is our goal for each Charles R. Ullman & Associates client.
Family law matters are heard in District Court at the Johnston County Courthouse on West Market Street/Business U.S. 70 in Smithfield (facing East Johnston Street, which is where parking is).
Family law judges are specially trained to hear issues related to child custody, child support, spousal support, domestic violence, equitable distribution of property, and termination of parental rights.
If necessary, you may take advantage of the N.C. Child Custody and Visitation Mediation Program in Johnston County, as well. Mediation is guided conversation that provides an alternate way for families to address their conflicts, exchange information, discuss the best way to parent from different homes, and make decisions that can help them avoid relying on a family law judge to determine child custody arrangements.
Domestic Violence and Restraining Orders in Johnston County, NC
If you are facing verbal, physical or sexual abuse from a spouse, parent, child, dating partner or an acquaintance, you can obtain a restraining order, which in North Carolina is technically known as a "domestic violence protective order" or a "civil no-contact order."
There are several steps to obtaining a restraining order, and the offices of Charles R. Ullman & Associates can help you obtain one without the stress of working with the courts and law enforcement systems on your own.
In short, obtaining a restraining order requires obtaining forms from the Johnston County Clerk of Court office (or online for domestic violence or a no-contact order), completing a civil summons form (domestic violence or no-contact) to help the sheriff's office identify your abuser and serve the summons, and testifying about what you have suffered before a judge.
Johnston County Resources for Victims of Domestic Violence
Multiple nonprofit organizations in Johnston County assist women and children in crisis:
The Harbor – A shelter for women and children who are victims of domestic and/or sexual violence. The Harbor provides a 24-hour crisis line (below) and intervention, advocacy services, and resources and programs toward building a new life.

Crisis Line: (919) 631-5478
Non-Emergency: (919) 938-3566

Good Neighbor House – The Smithfield Rescue Mission provides shelter to women and children with a history of domestic violence.
Johnston-Lee-Harnett Community Action – This organization helps qualified low-income clients to address a crisis, but its core services are providing counseling and programs focused on self-sufficiency and ongoing case management. Johnston-Lee-Harnett Community Action also oversees Head Start, a comprehensive preschool education program.
1102 Massey Street
Smithfield, NC 27577
(919) 934-2145
North 4th Street
Smithfield, NC 27577
(919) 209-9770
Johnson County Sheriff's Office
120 South Third Street
Smithfield, NC
Dial 911 for Emergencies Only
Domestic Violence Hotline: (800) 799-SAFE (7233)
Johnston County Hospitals
Two hospitals in Johnston County are operated by Johnston UNC Health Services and provide emergency room services:
Our Johnston County Family Law Firm is Ready to Help You
If you need help with a family law matter, the legal team at Charles R. Ullman & Associates is ready to assist and advocate for you. We represent clients in Smithfield, Selma, Clayton, Benson, and all of Johnston County.
We are dedicated family lawyers who have a detailed understanding of North Carolina family law and experience working with families like yours. We can help you work through the difficult decisions involving the dissolution of a marriage and moving forward with your life. Please do not hesitate to contact us for skilled and compassionate legal assistance.