Same Sex Domestic Violence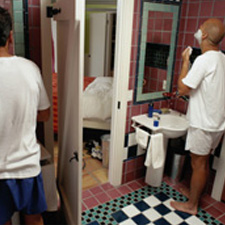 If your abuser is near and you need to quickly leave this page click on the button below.
Domestic violence in homosexual relationships (often referred to as LGBT -– lesbian, gay, bisexual and transgender) is just as serious an issue as it is in heterosexual relationships. In fact, domestic violence rates in same-gender relationships are about 25% -– which is similar to those reported in the heterosexual community.
LBGT Domestic Violence Statistics
While LBGT domestic violence statistics are similar to those reported in the heterosexual community, more men report being survivors of domestic violence than women. According to data from the Extent, Nature, and Consequences of Intimate Partner Violence: Findings from the National Violence Against Women Survey published by the U.S. Department of Justice, 15.4% of same-sex cohabiting men – versus 10.8% of cohabiting women – reported being raped, physically assaulted and/or stalked by their same sex partner.
Getting Help
Regardless of gender or reported statistics, members of the LGBT community who have been victims of domestic violence such as rape, date rape, acquaintance rape, stalking and any other violent activity should follow the same guidelines when it comes to:
Seeking help;
Obtaining medical treatment;
Reporting incidents to authorities;
Contacting rape crisis or domestic violence hotlines;
Utilizing resources;
Seeking counseling.
Gender Neutral Resources Include:
Whether you are currently being abused by a partner or spouse, or you are a survivor, it is important to seek the information and help you need to heal. When your safety is
LGBT Organizations Providing Support for LGBT Domestic Violence Victims
Several organizations specialize in helping gay and lesbian domestic violence victims. These include: